How Meg Ryan's Most Famous Scene Can Help You Sell
Remember the famous, "I can tell if she's faking…" scene in When Harry Met Sally?
Harry (Billy Crystal) insists his partners have never…ummm…faked it.
Sally (Meg Ryan) says women fake it all the time.
Harry's not buying it.
So Sally proves the point by…
…putting down her turkey sandwich and…
…well…
…faking it…
…enthusiastically…
…right there in a crowded New York deli.
The scene's punchline: The old woman at the next table summons the waiter, points at Sally, and says, "I'll have what she's having."
Funny!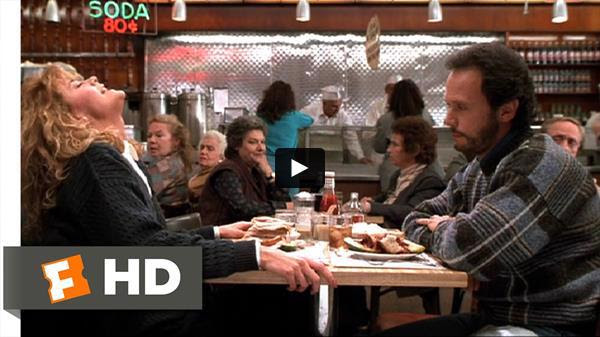 There's a valuable lesson for all of you (not just you cocky males who think like Harry)…
…and I'm not talking about dating and romance and "secks."
I'm talking about marketing.
That old woman was not planning to order a Turkey on Rye…
…until she saw how "pleased" Sally was.
It works the same way when you market your products and services.
Your prospect may not plan on ordering what you're selling. Many prospects think, "I'm not interested…" or "I'm not sure…"
Many may be thinking, I will NOT have that sandwich."
But when they see a customer describe or demonstrate how happy they are, they view your products and services in a new light.
When they see your customer have a great experience,
prospects think, "I want that, too."
And they say, "I'll have what they're having."
Well-crafted testimonials and case studies are little stories.
They paint a picture of a fantastic journey. It's a journey your customer has taken. And it's a journey your prospects wish to take.
Here's the big idea:
Prospects don't buy your products and services.
They buy the journey your products and service take them on.
I know…
You've heard it before. Testimonials and case studies are important.
But do you have a system in place to collect and publish them?
Do you update them regularly? Do you cultivate messages to address key selling points and answer common objections?
If not, it's time to get to work.
Thanks for reading.
p.s. I'm launching a new free training called "How to Harness The Magnetic Power of Stories to Captivate Prospects, Put them on the Edge of Their Seats and Inspire Them to Act Right NOW."

The live training will be next Thursday, March 4 at 2 p.m. CST. If you're interested but you can't attend at that time, registrants will receive a replay link.
Go to StoryPowerMarketing.com/story-power-training for all the details and to reserve a seat.
Want to get great content like this...
...delivered straight to your inbox?