How 1 Pic and 3 Words Transform A Boring Log Into a Romantic Tale
My friend Cabanne Howard (a great marketing strategist) sent this picture to me the other day…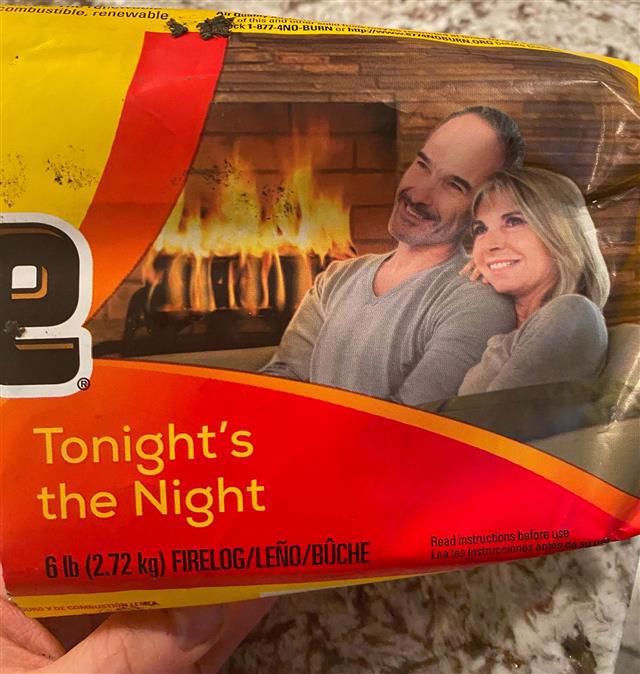 It's a closeup of this Duraflame log…

Cabanne thinks it's a great example of story-powered marketing. 
And she's right.  
Feeble marketing focuses on features.  
Better marketing focuses on benefits.  
The best marketing — story-powered marketing — promises  transformations.  
A Duraflame log  features sawdust and renewable agricultural fibers mixed together with wax and other combustibles to form a "log" wrapped in easy-to-light paper.  
The benefits: Light it with one match. No newspaper, lighter fluid, or other fire-starting aids required (less hassle!). It generates a warm glow and warmth for 4+ hours.  
So…that's all well and good. But what's the transformational story? What makes  this message so effective?  
Imagine this… 
Another weekend night at home. Cooped up in your COVID cocoon.  
You and your honey sink into the sofa, grab the remote, and — yet again — search for something to see on Netflix.  
On most nights, your honey falls asleep halfway through the latest episode of…whatever.  
But tonight, your honey puts a Duraflame in the fireplace and fills the living room with that warm glow… 
…that  romantic, warm glow.  
"Tonight's the night!" (Fade to black.) 
You may roll your eyes at the melodrama.  
But one picture and three words on that Duraflame package DO tell a powerful story that elevates the marketing message beyond benefits (yawn!)… 
…to transformation (yeah!).  
One picture and three words: Transform just another night of television into a romantic night in front of a glowing, long-lasting fire. 
Tonight's the night.
Thanks for reading. 

p.s. If you'd like to discover how to craft powerful stories that transform your marketing messages from "Yawn!" to "Yeah!" — I can help.  
For a very limited time, I'm reintroducing Free Story Assessments. Here's how it works…  
Go here to request a 30-minute online appointment. We'll email you within one business day to schedule a follow-up phone call. During that call, we'll hear more from you about what's working and what's not with your marketing. Based on what you submit in this form and tell us on the phone call, we'll offer our preliminary assessment about how to power up your story to grow your business.
Want to get great content like this...
...delivered straight to your inbox?